We see Darimo's product in some of the nicest bike of the forum but there is no specific topic to review existing and future products.
For now, for road bikes, two seat posts are available, the straight T1 available for some time now and the very recent T2 with 25mm offset.
I know Damia (Darimo founder) has some other products in the pipeline, but let's start with the T1
The T1
: for now the lightest seatpost on the market, weight is just exceptional!
And a great flexibility regarding custom length like 4ibanez 250x27.2 just above 60g or my 270mm x25.4 at 72g
The carbon tube has variable wall thickness over length and circumference
An important part of the gain come from the carbon yokes and the shorter bolts it allows
The T2:
Here in 400x31.6 at 113g
With a different fixation system, nicely integrated. Even if I don't have the need of an offset post, this curve is incredibly smooth!
——
Installation
The seatpost comes "assembled" (no parts in a plastic bags rattling in the box) with thin sand paper and carbon-paste, the types of details you expect of this level of components.
Installation is somehow easier than some smaller yokes you struggle to hold between the saddle rails, but tightening is initially surprising. The front bold can only be turned either by hand or with a spherical Allen-key, so not with the torque-wrench. After discussion with Damia, the front bolt adjust the saddle angle and you apply the "4N.m with the rear bolt". I rocked the saddle a bit (to balance the forces among the two yokes), it creaked a bit, then applied the same 4Nm and since then nothing moved and nothing creak while pedalling. Can also notice how wide the contact areas with the rails are (compared to Schmolke TLO for example that still reach 90g in 250mmx27.2m, or the MCFK)
http://lh6.ggpht.com/-bLb6d_nZo7g/TsV7J ... 25255D.jpg
or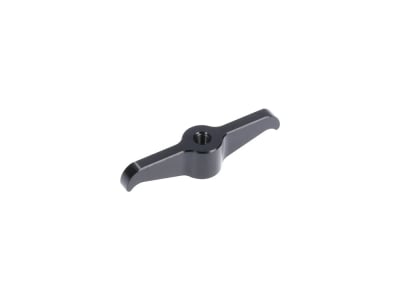 On the Road
During first rides, while I was not putting any hope in confort gain I have been quite surprised noticing a slight improvement over my original Save seat-post (I was inflated more than usual, with 7 bars on 25mm Michelin Power I was expecting only brand-new road... and then hit several KM of road being refurbished, closer to light gravel than road, alternating dirt-roads / cracked pavement / road under construction).
Envoyé de mon iPhone en utilisant Tapatalk